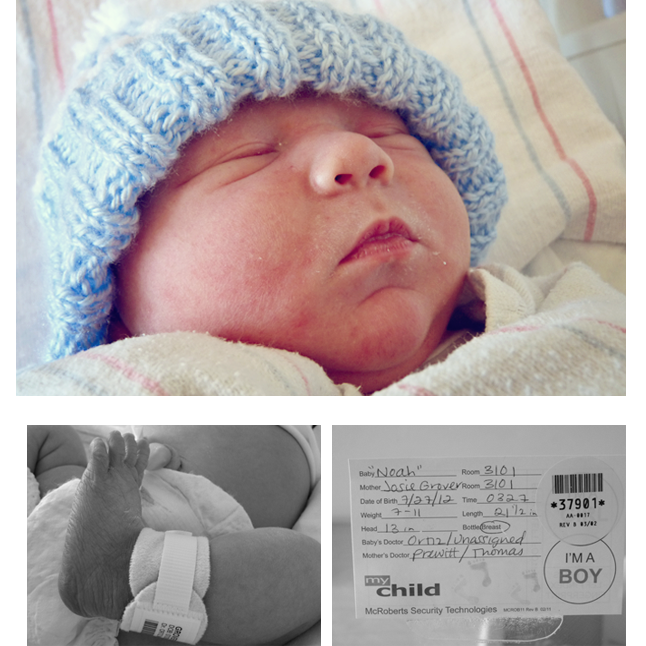 Noah Elias Grover was born to us on Friday, July 27th at 3:27 am. He was 7 lbs. 11 ounces. 21.5 inches long. I wasn't due until August 5th and all my other babies were only three days early so it was a bit unexpected when labor signs started to show themselves a week early last thursday. On my regular schedule, he would have been born today. I may have not had all my ducks in a row as far as the household was concerned, but boy was my body ready!!!
Thursday night I went to bed thinking labor could come on anytime. I was cramping irregularly and feeling a little anxious and sick to my tummy. Sure enough, I got out of bed at 12:45 and felt my water break. We called a friend and neighbor who agreed to be on our emergency list of people to call at any horrible hour of the night, bless her heart, and left to the hospital.
I remember getting into the bed in the triage room at about 1:15 and sent Grant to tell the nurses, #1 I have babies in three hours and #2 I want an epidural. That got them moving fast. They came in, checked my progress ( I was at a 4) and put in my IV, then ordered the epi. When they were wheeling me into the delivery room, the anethesiologist walked in behind me and I breathed a sign of relief. It wasn't that that I was uncomfortable but I knew I would be soon.
I just spent the next little while in total peace watching the nurses were busy preparing the room. They were working fast and efficiently. This was routine to them, but I was going to meet my child, and that was a big deal to me. I was excited. Just as the nurse left the room to do other things, she decided to come back in and check my progress. I was fully dilated. They called the doctor in and the rest is history.
It was my easiest labor, but I also felt like I had a hard time with the pushing his shoulders. We were really sad to learn at his doctors appointment at 4 days old that his clavicle had been injured during birth. The doctor said he heard some crunching on the bone and that it was probably broken. It will heal on its own. We just have to be very gentle with him. He has been such a good baby, that I would never would have thought anything was wrong had I not been told. He had gotten upset when we moved his arm around to put clothes on him. Now we can do it without upsetting him. I just felt so bad to learn this.
Our family is in love.
This kids are smitten.
I am totally smitten.
Grant is completely smitten as well.
It is crazy how it takes about two seconds of taking in your baby on first sight to have your heart filled completely.
Welcome to the family Noah.